"MR. SUNSHINE": FAKTEN - INHALT - CAST - EPISODEN - MERCHANDISE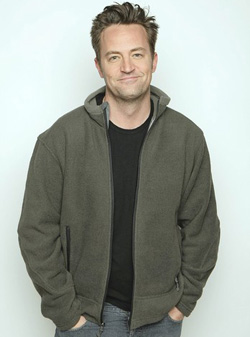 Mr. Sunshine ist eine Comedy Serie die von Februar bis April 2011 bei ABC in Amerika lief. Die erste Staffel brachte es auf 9 Folgen. Schlechte Quoten führten zur Absetzung. Die 4 nicht ausgestrahlten Folgen gibt es ausschließlich auf der DVD zu sehen die in Amerika erschien.

| | |
| --- | --- |
| TITEL: | Mr. Sunshine |
| GENRE: | Comedy |
| LÄNGE: | je ca. 22 Min. |
| FOLGEN: | 13 (9 bei ABC ausgestrahlt) |
| START: | Februar 2011 |
| SENDER USA: | ABC |
| PRODUKTION: | ABC Studios |
| PRODUZENTEN: | Matthew Perry, Thomas Schlamme |
| AUTOREN: | Alex Barnow, Marc Firek, Matthew Perry |
| REGIE: | Bill Lawrence |
| HAUPTDARSTELLER: | Matthew Perry, Allison Janney, James LeSure, Andrea Anders |
Matthew Perry spielt Ben Donovan, den Manager einer zweitklassigen San Diego Sport Arena (The Sunshine Center) der an seinem 40sten Geburtstag anfängt kritisch über sein Leben nachzudenken. Er arbeitet für Crystal Cohen, der attraktiven, kraftvollen und launigen Eigentümerin der Sport Arena. Außerdem gibt es da noch die Marketing Direktorin Alice, mit der Ben eine "Friends with Benefits" Beziehung führt und Heather, Bens Assistentin, hübsch und süß aber zugleich auch furchteinflößend, da sie ihren Ex Freund in Brand gesetzt hat, sowie Crystals Sohn für den Ben einen Job in der Arena finden soll obwohl er keinerlei nützlichen Kenntnisse mitbringt.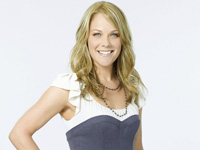 Andrea Anders ist Alice:


Allice ist Marketingchefin der Arena und hatte mit Ben eine Beziehung über die Ben schwerer hinwegkommt als Allice selbst.



Andrea Anders spielte eine der Hauptrollen im FRIENDS Spin-off "Joey". Danach war sie in den Serien "The Class" und "Better Off Ted" in Hauptrollen zu sehen.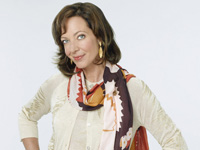 Allison Janney ist Crystal Cohen:

Chrystal ist Bens Chefin, die Besitzerin der Arena. Sie bereitet Ben nur Probleme und hat eine eigenartig distanzierte Beziehung zu ihrem Sohn Roman, mit der Ben auch noch umgehen muss nachem Ben in der Arena zu arbeiten beginnt.



Allison Janney ist besonders durch ihre Hauptrolle in "West Wing" bekannt für die sie vier mal mit dem Emmy ausgezeichnet wurde und viermal für den Golden Globe nominiert wurde.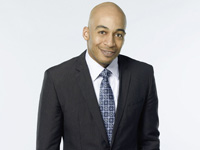 James LeSure ist Alonzo:
Als ehemaliger NBA-Spieler ist Alonzo vor allem für die Öffentlichkeitsarbeit der Arena verantwortlich, der eine Beziehung mit Alice beginnt.

James LeSure spielte eine der Hauptrollen in der Serie Las Vegas und war außerdem bereits in zahlreichen Gastrollen unter anderem in "Alias" und "Lipstick Jungle" zu sehen
Nate Torrence ist Roman Cohen:
Roman ist Chrystals Sohn und der neue im Team der Arena. Er möchte seiner Mutter näher kommen was für Ben nichts als Probleme bereithält.

Nate spielte bereits in "Studio 60 on the Sunset Strip" an der Seite von Matthew Perry in der Serie. Außerdem war er in zahlreichen Gastrollen in Serien wie "Ghost Whisperer" und "House" zu sehen.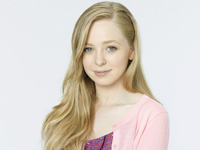 Portia Doubleday ist Heather:
Heather ist Bens Assistentin. Nicht kompetent, aber das sie ihren Ex Freund in Brand gesteckt hat, hat jeder nur Angst davor ihr die Meinung zu sagen.

Für Portia Doubleday war "Mr. Sunshine" der erste Auftritt im Fernsehen. Zuvor war sie in einigen Filmen im Kino zumeist in Nebenrollen zu sehen.

Season 1:
001 1-01 09.02.2011 Pilot
On what would have been just a typical day at work -- trying to get rid of a hockey rink that won't melt so the circus can go on that night, looking for an elephant lost in the building and arranging an impromptu press conference to repair one of his boss's PR nightmares -- Alice ends her casual relationship with Ben to commit to another man. This happens on Ben's 40th birthday, just as he's realizing he doesn't want to be alone.

002 1-02 16.02.2011 Employee Of The Year
Crystal decides to hold a contest to determine the Employee of the Year, but unbeknownst to the staff, a winner has already been pre-determined. Meanwhile, as Ben contends with catering to Eli's needs, he must also keep the rest of the employees from being distracted by the fake contest and get the arena ready in time for Eli's performance.

003 1-03 23.02.2011 Heather's Sister
When Heather sets Ben up on a blind date with her sister, Stephanie, he finds he has a lot in common with her... until he realizes Stephanie is crazy. In an effort to help Roman muster the courage to ask Heather out, Ben finds himself reluctantly on a group date with Stephanie, Roman and Heather. Meanwhile, Crystal has asked Alonzo to walk her dog in a dog show, and Alice tries to impress her best friend who's come for a visit.
004 1-04 02.03.2011 Hostile Workplace
Ben's plan to get his employees to like him backfires. Meanwhile, Crystal invites Alice and Alonzo on a double date with her new beau, and Ben gives Heather the responsibility of finding a new halftime act when the Sunshine Center mascot suddenly quits.
005 1-05 09.03.2011 Crystal On Ice
Ben discovers Roman has no place to stay and reluctantly takes him in, Crystal harbors animosity for a certain ice dancing group, and Alice feels guilty when she fails to keep up with her "perfect man."

006 1-06 16.03.2011 Lingerie Football
When Ben discovers its Crystal's anniversary with Billy, one of her ex-husbands, he encourages her to find him so she can get the closure she's needed from their relationship. While he helps Crystal, Ben looks to Roman to entertain his date -- the hot quarterback of a woman's lingerie football team - and Alice lends Alonzo a hand with two unruly, internet billionaires.

007 1-07 23.03.2011 Celebrity Tennis
It's a dream come true for Ben when he teams with Alonzo to play doubles against tennis legend Jimmy Connors and actor Fred Savage in a celebrity tennis tournament. Meanwhile, Ben feels the need to reveal to Alonzo his past with Alice, and a careless act on Crystal's part brings her closer to son, Roman.

008 1-08 30.03.2011 The Assistant
When Alice asks Ben for an assistant, he gives her Roman. Roman may not be what Alice had in mind, but she finds a connection with him that surpasses her expectations. Meanwhile, Crystal wants to honor a passing friend with a funeral at The Sunshine Center, and Alonzo comes clean about a past relationship.

009 1-09 06.04.2011 Ben And Vivian

Ben is in for a surprise when his one-night-stand turns out to be Crystal's new assistant, Vivian. When Ben and Vivian try to continue their "no strings attached" relationship, Ben discovers something about himself. Meanwhile, Crystal's efforts to be a responsible mom to Roman are derailed, and the mascot sends Alonzo over the edge.
Unausgestrahlt:

010 1-10 Self Help
011 1-11 Family business
012 1-12 Cohen and Donovan
013 1-13 The Best Man

Die Serie ist ausschließlich in Amerika auf DVD erschienen. Die Box enthält alle 13 Folgen der ersten Staffel, die letzten vier wurden nie im TV ausgestrahlt. In Europa lässt sich die Box bei amazon.co.uk bestellen:
Episodenguide von ABC